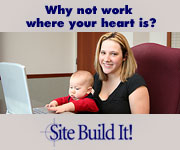 No, seriously.
Most of you know me as the person who started Budapest Moms. Or have heard of me because of my private practice as a psychologist, or because you hired me as a doula, or have taken my prenatal classes.
Well, Rita Revy, a volunteer Budapest Moms organizer and our website editor, asked me to write an article for the website, and I decided to write about a DIFFERENT aspect of my life.
I have a passion for tinkering with websites. I have been doing it since I was in college, so I'm not exactly a beginning webmaster. Neither am I a pro. I'm somewhere in between. I know enough to put up and maintain my own websites. But I never made money from my websites before…
So I'm here to tell you about a product I found that is unique in my webmaster experience of nearly 20 years. (Oh my goodness, did I just write TWENTY YEARS?!?!?)
What's unique about this income method is that it actually delivers what it claims, which is to show you how to build a website that makes money, even if you barely know how to use a mouse. And it's not a scam, not a get-rich-quick scheme. Quite the opposite, actually. It takes a lot of work and dedication and sticktoitiveness, but they provide you the instructions and the tools to do it, even if you are a complete novice on the internet.
How do I know? I tried it out.
I built budapest-doula.com using this product, following the steps, putting in as much time as I had (which wasn't a lot, what with raising two children, building my private practice, running a community center and organizing Budapest Moms). Immediately after I put up content, it delivered what I bought it for: it put me and my services on the first page of Google search results. So it was driving clients to my business, and it was helping new moms find Budapest Moms along the way.
I should explain that while I'd had my eye on this product for a while, what gave me the final push, the reason I decided to buy it was because one of YOU showed up to my mommy-baby group, which was the only one in Budapest at the time, and said it took FOREVER to find information about it online, and how frustrating that was. Imagine how frustrating that was for ME! I'd spent hours on the internet, putting the information into expat directories, and moms were still telling me it was hard to find? I knew I needed something better then, so I bought the product that promised to put me on the first page of Google search results.
I've thought about writing a review before, but I felt I shouldn't do that until my site actually starts making money. So I waited, though I think this is a perfect product for stay-at-home moms who want to do something productive, make some (or quite a bit!) of money without having to leave their homes.
So, about three weeks ago, I finally pulled the trigger and started monetizing the site. Within 3 weeks, it has become obvious that the site will make enough money to pay for itself at the very least (and that's not counting the income from the clients who find me through it). And I only have 20 pages and some Google ads up, so it is definitely still in its infancy, despite the fact that I bought it 2 years ago. Good thing their mascot is the tortoise!
At any rate, I now feel totally confident in recommending it.
So what is it?
The product is Site Build It. It's a web host, a domain registrar, and most importantly, a set of tools and instructions for how to put together a website that makes money, even if you know just enough about the internet to check your email. And it comes with a community of supportive people to help you when you get stuck.
Wondering whether you know enough to put up a website about something? Don't. Everybody knows something about something. You don't have to be an expert – you just have to know enough to write to people who know less than you do. I've seen successful SBI sites written about locations (anguilla-beaches.com was started by a 14-year-old and is now sending her through college!). I've seen SBI sites about exercise (flat-stomach-exercises.com makes its owner hundreds of dollars a month while pole-dancing-for-fitness.com was started by a single mom and eventually replaced her 9-to-5 fitness instructor job as her main source of income). I've seen SBI sites about apple cider vinegar, for heaven's sake! And it makes money! And SBI gives you the tools to evaluate whether your area of expertise is viable before you even start. And once you decide on your topic, it gives you the tools to bring the most out of it.
The thing Site Build It doesn't claim to be is effortless. It takes work to build an e-business, as they say, but they give you the blueprint and they give you the tools. If you have an interest, a topic you could write about, if you already have a business you need more customers for, if you want to sell your products or services online, if you are a stay-at-home mom with limited time, they can show you how to put up a website that can make you some money. How much depends entirely on what topic you choose for yourself and the work you put in.
Check it out! It worked for me. It delivered what it promised. Click on the banner below to see a tour of how Site Build It works!